<!!!!!!!!!!!!!!!!! DO NOT USE THE EDITOR WITH THIS PAGE !!!!!!!> <!!!!!!!!!!!!!!!!! DO NOT USE THE EDITOR WITH THIS PAGE !!!!!!!> <!!!!!!!!!!!!!!!!! DO NOT USE THE EDITOR WITH THIS PAGE !!!!!!!> <!!!!!!!!!!!!!!!!! DO NOT USE THE EDITOR WITH THIS PAGE !!!!!!!><!!!!!!!!!!!!!!!!! DO NOT USE THE EDITOR WITH THIS PAGE !!!!!!!> <!!!!!!!!!!!!!!!!! DO NOT USE THE EDITOR WITH THIS PAGE !!!!!!!>

Click here

Donate Online
WeShare
Covid-19 - A Message to the Faithful from Bishop David M. O'Connell C.M.
We continue to pray for all those affected by the coronavirus and their families. The Parish Religious Education Classes for the 2020-2021 Academic Year has begun. For late registration, please call the Parish Office for assistance.
St. Catherine of Siena Parish will offer catechist-led, virtual classes for the first semester, October - December. We will re-evaluate this format in December and decide to continue this format or return to in-person classes from January through May.
IMPORTANT
The Portal to register is open. Please click
https://sienachurch.churchgiving.com
. All students entering Grade 1 need to provide a copy of their Baptismal Certificate to the Parish Office.
Bishop David M. O'Connell invites faithful to pray daily rosary for the needs of the nation.
Novena Prayer for the United States of America
*recite each day
God our Father, giver of life, we entrust the United States of America to your loving care. You are the rock on which this nation was founded. You alone are the true source of our cherished rights to life, liberty, and the pursuit of happiness. Reclaim this land for your glory and dwell among your people.
Send your Spirit to touch the hearts of our nation's leaders and citizens. Open our minds to the great worth of human life and the responsibilities that accompany respecting and protecting human life and religious liberty. Help us to bring an end to racial injustice, violence and all the evils that divide us. Remind your people that true happiness is rooted in seeking and doing your will. Make us instruments of your peace!
Through the intercession of Mary Immaculate, patroness of our land, grant us the courage to reject the "culture of death" and lead us always to respect life in all its stages and circumstance. We ask this through Christ our Lord. Amen.
(Here mention intention: For, etc.)
THEN, RECITE AN OUR FATHER, HAIL MARY AND GLORY BE EACH DAY FOR OUR NATION
(individual recommended intentions for each day of the Novena)
Source: adapted from www.catholicdigest.com
· Monday, October 26: For an end to abortion in our country and for respect for life in all its stages, from conception to natural death
· Tuesday, October 27: For an end to the COVID pandemic in our country and for all those affected by it
· Wednesday, October 28: For an end to racism and social injustice in our country
· Thursday, October 29: For the protection of religious liberty in our country and around the world
· Friday, October 30: For those who protect and serve us in law enforcement in our country and for an end to violence and destruction, especially in our cities
· Saturday, October 31: For those who protect our country in the armed forces at home and around the world and for peace in the world
· Sunday, November 1: For the poor, for immigrants and refugees, for the forgotten and most abandoned in our country
· Monday, November 2: For the protection of marriage as the faithful union of one man and one woman and for the strengthening of family life in our country
· Tuesday, November 3: For those who govern our country and for those who are running for elected office that they might serve with a commitment to life, respect, compassion, liberty and justice for all
The parish office is open weekday, Monday through Thursday, via email, phone, or by appointment 9:00 am - 2:00 pm. Sunday hours are 9:00 am - 12:45 pm.
Please Ring the Bell on the Outer Door
Closed Friday, Saturday
We are following direction from the Diocese of Trenton regarding the re-opening of the Parish Office, effective July 6, 2020 – October 2, 2020 (unless otherwise announced.) The following guidelines will be required for all persons before entering the Parish Office:
Temperature Check
Complete a simple screening questionnaire
Wear a Face Covering
From Bishop David M. O'Connell
UPDATE JULY 31, 2020
Given all current public health and safety reports the Dispensation from the Obligation to attend Mass has been extended UNTIL FURTHER NOTICE.
The faithful are encouraged to attend Sunday Mass in their Parishes whenever possible or to participate in outdoor or live-streamed masses offered online until the dispensation ceases in order "to keep holy, the Lord's Day."
Please continue to remember one another in prayer, especially the sick, the departed and all those providing care for them at this time.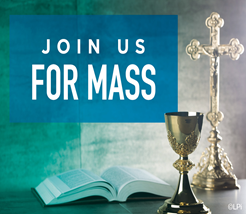 ST. CATHERINE OF SIENA PARISH REOPENING PROTOCOLS
Limited Public Celebration of the Mass and Sacraments in Church
The dispensation from Sunday/Holy Day Mass obligation remains in effect (see above).
MASS TIMES
Saturday 4:30 P.M.
Sunday 8:00 A.M.
Sunday 10:00 A.M.
Sunday 11:30 A.M.
Weekday Mass held in the Church 9:00 A.M. Monday – Friday. Closed Wednesday.
Chapel will remain closed until further notice
CAPACITY
For now, Masses will be limited to 1/3 occupancy. For St. Catherine of Siena Church that equates to 85 persons. Our parish hall will be utilized as overflow space able to accommodate 85 persons, the 1/3 occupancy limit.
The Church will be open 30 minutes prior to the start of Mass. Please note, seating is on a first come, first served basis. Please arrive early as the doors will be locked once Mass begins.
Following the directives of Bishop O'Connell, weekday Mass will be limited to 50 persons attending.
BEFORE YOU ARRIVE
Out of respect for others, face masks (ages 2 and older) are required.
Bring your own hand sanitizer that can be used before receiving Holy Communion.
To request a low-gluten host, please call the parish office at 732-938-5375, Opt. 1, with minimum of 24 hours' notice. Please leave your full name, and the Mass time you will attend on the message.
Bathrooms are available but we encourage you "to go" before coming to Church.
ARRIVAL
Please use the two center doors when entering the Church.
Please use the hand sanitizer provided as you enter the Church.
The holy water fonts remain empty. Enter Church by making the sign of the cross.
No public gatherings or greetings (handshakes, hugs, etc.) at Church entrances and Church property are permitted.
Social distancing (6ft) is required between households.
With social distancing, parish personnel will bring you to your pew.
Families will sit together. Others will be seated with social distance between them.
No reserved seating or changing of seats.
Every other pew will be marked closed and left empty.
Please leave the kneelers down.
The Church will be seated to fill the open pews from the front to back.
Remaining in the narthex will not be permitted.
LITURGY
Masses will be conducted with reduced lay ministers.
We will have music within the weekend Mass however, congregational singing is suspended and as stated in the Bishop's directives, there will be no choir at this time.
All missals, hymnals, printed materials, pamphlets, prayer books will be removed from the Church.
Please keep your face mask on for the duration of Mass.
There is to be no physical contact during the Sign of Peace or holding of hands during the Lord's Prayer.
The usual presentation of offertory gifts will be suspended. Baskets for your offertory gifts will not be passed. You will be able to place your offering in the offering box and baskets located in the narthex as you enter/exit the Church. We strongly encourage signing-up on our website for online giving through WeShare. Please call the parish office for more information.
DISTRIBUTION OF HOLY COMMUNION
We seek to make your experience of receiving Holy Communion reverent and peaceful.
We all want to feel safe, please utilize hand sanitizer brought from home before you receive.
Distribution of Holy Communion will be held in pew. While wearing masks, the clergy will bring the Eucharist to you passing through the closed pews.
Please remain kneeling. It is optional to stand to receive.
Holy Communion is to be received in the hand.
Please keep your face mask on until you receive, lower to consume the Eucharist, and then re-mask.
The Precious Blood will not be offered to the congregation.
Holy Communion to a family member of the same household who is ill or homebound will be provided. Please bring your pyx (a container for the consecrated host). We can provide instructions on how to bring Holy Communion to a family member who cannot come to Church on Sunday. Please call or email the parish office with your request with a minimum of 24 hours' notice.
DEPARTURE
After the final blessing, parishioners must remain in pew.
Pews will be dismissed in an orderly fashion starting at the rear of the Church and then moving forward. Please exit when prompted.
Private prayer is not available after Mass to allow the Church to be cleaned.
All exit doors via the narthex of the Church will be utilized.
Your offertory gift can be placed in the collection box and baskets as you leave the Church. Thank you for your generosity.
Clergy will not shake hands after Mass.
No public gatherings or greetings (handshakes, hugs, etc.) at Church entrances and Church property are permitted.
NOTE
Here at St. Catherine of Siena Parish, we aim to reopen slowly, re-evaluate, and make changes based upon guidance from our Bishop and public health officials.
Reminder, weekday Mass will be observed with the same requirements but will be limited to 50 persons attending.
For those who are not feeling well, those with underlying health conditions or in a high-risk category, one should stay at home and avoid any public gathering. We strongly encourage you to watch or participate in the Mass remotely.
The Church will be open for private prayer with no more than 25 persons attending, Monday through Thursday, 11:00 A.M. – 2:00 P.M.
First Friday, Exposition of the Blessed Sacrament is held after the 9:00 A.M weekday Mass until 10:30 A.M.
Our Monday Novena of the Miraculous Medal is to be done privately.
The sanitation of the Church before and after Mass is a top priority. Cleaning frequently touched surfaces, in the Church, sanctuary, narthex and bathrooms will be sanitized between services. For the sake of all persons, please try to minimize hand contact with surfaces in the building.
Group devotional observances and parish social ministry gatherings are suspended until further notice.
Religious Education is closed over the summer.
Registration for the 2020-2021 Religious Education Program will be held online, date to be determined.
The rescheduling of the 2020 Spring Confirmation Ceremony and First Holy Communion Ceremony will be forthcoming.
SACRAMENTS
THE SACRAMENT OF RECONCILIATION
As has been the case throughout the pandemic, confession continues to be available as needed. Our regular schedule of confessions at 3:30 P.M. – 4:00 P.M on Saturday's are canceled until further notice. Please contact the parish office for an appointment.
Please note, confessionals will not be used.
​All arrangements for confessions must safeguard the health of both priest and penitent, respecting the dignity and confidentiality of the Sacrament.
Masks must be worn by priest and penitent.
General absolution is not permitted in the Diocese of Trenton, unless explicitly permitted by the Bishop according to the norms of Canon Law.
THE SACRAMENT OF BAPTISM
Any Catholic families who have recently celebrated the birth of a child or who otherwise have an unbaptized child and would like to seek baptism for them under the directives set forth by Bishop O'Connell are encouraged to contact the parish office to make arrangements in advance.
St. Catherine of Siena Parish will celebrate the Sacrament of Baptism every Sunday at 1:30 p.m. Saturday, special request.
The celebration of baptism within Mass is suspended.
The number attending will adhere to social distance guidelines with a maximum of 50 persons attending.
Masks are to be worn by all present.
Only parents or godparents may hold the infant during the ceremonies.
Sanitizer should be used when there is any physical contact before, during or after baptism.
Group photographs in Church after the baptism are not permitted.
No public gatherings or greetings (handshakes, hugs, etc.) at Church entrances and Church property are permitted.
​The celebrant will not receive or make physical contact with the faithful after the baptism; families should exit Church immediately after baptism in an orderly manner.
THE SACRAMENT OF MATRIMONY
Following the directives of Bishop O'Connell, only the marriage ceremony (not Mass) may be celebrated in Church until further notice. Please contact the Pastor for details.
CATHOLIC FUNERALS IN CHURCH
All funeral arrangements will be made following the directives of Bishop O'Connell. Please contact the parish office for arrangements.
THE SACRAMENT OF THE ANOINTING OF THE SICK
To schedule an anointing, please call the pastor's office at 732-938-5375, Opt. 7.
Upcoming Events
Today:
Sat Oct 24
PRAY FORElinor Ann Alba
Sun Oct 25
PRAY FORAnna Mae Suozzo - 8:00 am Mass
PRAY FORRoy Murray - 10:00 am Mass
PRAY FORDonald Douglas - 11:30 am Mass
Mon Oct 26
PRAY FORRoy Murray
Tue Oct 27
PRAY FORLiving Intention - Nelly Pangilinan
Thu Oct 29
PRAY FORPeter Casares
Fri Oct 30
PRAY FORThe People of the Parish
Sat Oct 31
PRAY FORGeorge Hankel
HOW YOUR CONTRIBUTION TO THE ACA HELPS
Priests, Deacons, & Religious
Finding & Forming Priests
Retired Priests Care
Support of Religious Women & Men
Community Outreach
Families, Youth & Young Adult Ministries
Catholic Social Services
Pastoral Care
Outreach to the Poor & Vulnerable
Teaching the Faith
Religious Education
Catholic Schools
RCIA
Tuition Assistance
Evangelization & Communication
CLICK HERE TO WATCH VIDEO
---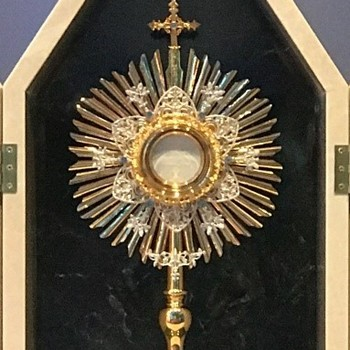 Act of Spiritual Communion
My Jesus, I believe that You are present in the Most Holy Sacrament. I love You above all things, and I desire to receive You into my soul. Since I cannot at this moment receive You sacramentally, come at least spiritually into my heart. I embrace You as if You were already there and unite myself wholly to You. Never permit me to be separated from You. Amen.
Catholic Charities News -The economic impact of the pandemic has increased the number of homeless families. Catholic Charities provides transitional housing, job skills and budgeting training to people in Monmouth county, who have lost their homes. For assistance call 732-922-0400.