<!!!!!!!!!!!!!!!!! DO NOT USE THE EDITOR WITH THIS PAGE !!!!!!!> <!!!!!!!!!!!!!!!!! DO NOT USE THE EDITOR WITH THIS PAGE !!!!!!!> <!!!!!!!!!!!!!!!!! DO NOT USE THE EDITOR WITH THIS PAGE !!!!!!!> <!!!!!!!!!!!!!!!!! DO NOT USE THE EDITOR WITH THIS PAGE !!!!!!!><!!!!!!!!!!!!!!!!! DO NOT USE THE EDITOR WITH THIS PAGE !!!!!!!> <!!!!!!!!!!!!!!!!! DO NOT USE THE EDITOR WITH THIS PAGE !!!!!!!>

Click here

Donate Online
WeShare
Covid-19 - A Message to the Faithful from Bishop David M. O'Connell C.M.
Join us as we pray the Stations of the Cross every Friday during Lent, Prayerfully follow in the footsteps of Christ from the moment He was condemned to death, to His passion and death on the cross.
STREAMED MASSES
The Monitor has put together a Listing of Known Resources where people can see live-streamed and recorded archived televised Masses.
Mass for the Fourth Sunday of Lent
Bishop O'Connell will celebrate Mass for the Fourth Sunday of Lent, March 22, via the Diocese's YouTube Channel, www.youtube.com/trentondiocese.
The Mass will be broadcast at 11 a.m. and will remain on the Youtube channel for continued viewing.
The Fourth Sunday of Lent, also referred to as Laetare Sunday, marks the midpoint of the Lenten journey.
Links to the Mass will also be posted on the main page of the diocesan website, dioceseoftrenton.org as well as the Diocese's Lent Page, www.dioceseoftrenton.org/lent
From our Pastor as of March 26, 2020
Our Faithful Approach
As your pastor, let us take a moment and reflect on all God's blessings and graces. I extend to you a heartful thank you to those who have continued their financial support of the parish by mailing in your envelopes, and those who have reached out to us to sign up for online giving. Our parish is truly blessed with generous, caring and faithful members.
I recognize this crisis has hit many of our families hard; some are facing not only the risk of falling ill, but also a significant disruption in their employment and the ability to provide for themselves. If you are among those who can help with the financial needs of the parish during these difficult times while others cannot, we ask you to please consider doing so. Without a weekly offering our parish faces great uncertainty. Please consider signing up for Online Giving at https://sienachurch.churchgiving.com.
I believe that God will carry us through these dark days, and I look forward to the day we can all join to worship, give thanks and serve as one family of God. Let us ask for the intercession of our patron saint, St. Catherine of Siena, to strengthen and empower us. St. Catherine of Siena pray for us.
As a reminder, due to the high volume of calls, we are collecting non-perishable food to ensure food assistance is maintained to our local families in need. We are grateful for the parish community's support in making our response efforts possible. Collection bins have been placed outside the Church entrance doors. For more information, please email frontoffice@sienachurch.org.
As always, I am here for you during these difficult and challenging times. Do not hesitate to reach out to me. God Bless. Please be safe and let us as one Church, one body of Christ, continue to pray without ceasing.
THE CORONAVIRUS SITUATION: KEY POINTS OF INFORMATION AND UPDATES
Updated as of 1:00 p.m. Thurday, March 26, 2020
All public Masses and all public Holy Week Liturgies in the Diocese of Trenton (including St. Catherine's) are suspended through and including Easter Sunday, April 12.
St. Catherine of Siena Church will be open for private paryer Monday - Friday and Sunday from 8:00 a.m. to NOON. Please respect the recommendations for social distancing during those private prayer times in the church.
The parish office is open Monday - Friday 8:00 a.m. - NOON (but not open to the public) on a partial-day schedule on a day-to-day basis through April 12. In case of an emergency outside of business hours (including a request for a priest for the Sacrament of the Sick), please phone the parish office at 732-938-5375 and appropriate parish staff members will respond to your emergency. Please call the parish office regarding the Sacrament of Penance.
Please remember that Bishop O'Connell has granted a DISPENSATION from the OBLIGATION to attend weekend/Sunday Mass to all the Catholic faithful in the Diocese of Trenton until further notice.
Jesus Christ, you traveled through towns and villages
"curing every disease and illness."
At your command, the sick were made well.
Come to our aid now, in the midst of the global spread of
the coronavirus, that we may
experience your healing love.
Heal those who are sick with the virus.
May they regain their strength and health
through quality medical care.
Heal us from our fear, which prevents nations
from working together and neighbors
from helping one another.
Heal us from our pride, which can make us claim
invulnerability to a disease that knows no borders.
Be with those who have died from the virus.
May they be at rest with you in your eternal peace.
Be with the families of those who are sick or have died.
As they worry and grieve, defend them from illness and
despair. May they know your peace.
Whether we are home or abroad, surrounded by many
people suffering from this illness or only a few, Jesus
Christ, stay with us as we endure and mourn, persist and prepare.
In place of our anxiety, give us your peace.
Jesus Christ, heal us.
Welcome to St. Catherine's
The Parish Community of Saint Catherine of Siena welcomes you with great delight and pleasure. Everyone, as well as your families, are joyfully invited to be among us at the celebration of Sunday Liturgies and to be actively involved in the faith-filled activities of the Parish.

Come, see and experience the parish life our ministries and services offer to all, leading us to fulfill the Gospel Truth and Values.

Full of hope and gladness, may you realize and find that our website is helpful and informative.

Mission Statement
With eyes firmly fixed on the Gospel of Jesus Christ, the community of Saint Catherine of Siena Parish gathers to celebrate the Eucharist and worship God with joy and commitment. We welcome and reach out to those within our parish family and those beyond this community as we spread the Good News by offering hospitality, spirituality, ongoing faith formation, and support for those to whom we minister.

Prayer to St. Catherine of Siena
Father, in meditating on the sufferings of your Son and in serving Your Church, St. Catherine was filled with the fervor of Your love. By her prayers may we share in the mystery of Christ's death and rejoice in the revelation of His glory.
St. Catherine of Siena Pray for Us
Upcoming Events
Today:
Sat Mar 28
PRAY FORJoseph Cocuzza
Sun Mar 29
PRAY FORAnthony Garamella Sr.Hugh BlairVincenta Martinez
Mon Mar 30
PRAY FORHugo Picciani
Tue Mar 31
PRAY FORAdrian "Chip" Cece
Thu Apr 2
PRAY FORAnthony & Rachel Pennetti and Family
Fri Apr 3
PRAY FORJames L. Brennan
HOW YOUR CONTRIBUTION TO THE ACA HELPS
Priests, Deacons, & Religious
Finding & Forming Priests
Retired Priests Care
Support of Religious Women & Men
Community Outreach
Families, Youth & Young Adult Ministries
Catholic Social Services
Pastoral Care
 Outreach to the Poor & Vulnerable
Teaching the Faith
Religious Education
Catholic Schools
RCIA
Tuition Assistance
Evangelization & Communication
CLICK HERE TO WATCH VIDEO
---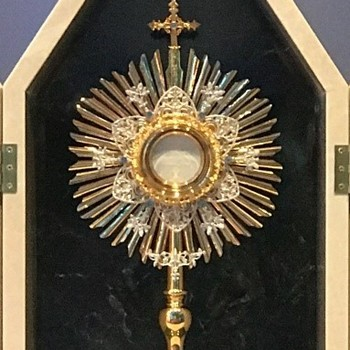 Act of Spiritual Communion
My Jesus, I believe that You are present in the Most Holy Sacrament. I love You above all things, and I desire to receive You into my soul. Since I cannot at this moment receive You sacramentally, come at least spiritually into my heart. I embrace You as if You were already there and unite myself wholly to You. Never permit me to be separated from You. Amen.