<!!!!!!!!!!!!!!!!! DO NOT USE THE EDITOR WITH THIS PAGE !!!!!!!> <!!!!!!!!!!!!!!!!! DO NOT USE THE EDITOR WITH THIS PAGE !!!!!!!> <!!!!!!!!!!!!!!!!! DO NOT USE THE EDITOR WITH THIS PAGE !!!!!!!> <!!!!!!!!!!!!!!!!! DO NOT USE THE EDITOR WITH THIS PAGE !!!!!!!><!!!!!!!!!!!!!!!!! DO NOT USE THE EDITOR WITH THIS PAGE !!!!!!!> <!!!!!!!!!!!!!!!!! DO NOT USE THE EDITOR WITH THIS PAGE !!!!!!!>
The Annual Catholic Appeal supports and fosters many essential ministries, programs and services in the Diocese of Trenton. Have you made your pledge yet? Only $6,755.00 more in pledges is needed to meet our $44,000.00 Goal!
Soles4Souls - Beginning the weekend of September 22/23, St. Catherine's Social Concerns Committee will be collecting new and/or gently used shoes of all sizes and types. Look for the collection box in the Narthex.
The Parish Fall Festival will be held on Sunday, September 23, 2018 beginning after the 10:00 am Mass.
Walking with Purpose is a weekly Bible study program for women beginning on Tuesday, September 25, 2018 from 10:00 - 11:30 am. Two programs will run simultaneously. For further information, call the parish office at 732-938-5375 or email wwp@sienachurch.org.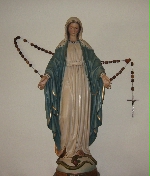 Rosary Altar Society/Legion of Mary Auxiliary Update
For the Women of the Parish: The next Rosary meeting will begin at 10:00 am on Thursday, October 11, 2018 with recitation of the Rosary in the Church followed by the meeting in Classroom #10.
For all parishioners: Join us to Pray the Rosary at 4:00 pm before the 4:30 pm Mass on October 6, 2018, at our Fatima celebration at 12:00 noon on Saturday, October 13, 2018 in the parking lot, and after the 8:00 am Mass on October 14, 2018.
Not yet a member? Download a Copy of the Membership Form and submit it with your dues.
Save the Date... St. Catherine of Siena Ministry Fair
Sunday, October 20/21, 2018.

Give Online
WeShare online giving helps parishioners support the important work we are called to do together. Set up one-time or recurring donations, choose when and how to give to specific collections, and view your complete, accurate financial records at any time during the year.
Have you signed up yet for FORMED? Download the free iOS or Android app to put FORMED at your fingertips. Sign up for FREE at https://sienachurch.formed.org. Use Chrome or Firefox or Safari; Internet Explorer won't work.

SMART PHONE USERS now have a free App at SCOSNJ.Catholic.Cloud. Announcements, calendar, Mass schedules, and news items.
The Legion of Mary Pilgrim Statue is available to visit homes in our Parish Community. If interested, call 732-616-3127 or email pheathers7@yahoo.com.
Anyone over age 12 can be an usher. Confirmation students - earn service hours. Contact scottrubinson@gmail.com or call 732-492-6861.
The Diocese of Trenton is committed to the initiatives outlined in the U.S. Bishops Charter for the Protection of Children and Young People... See the remainder of the Notice from the Diocese.
Check out Links for a wide variety of information of interest to Catholics.
Recommendation for Sponsorship ... In order to be a godparent/sponsor for Baptism or Confirmation, a person must have received all their Sacraments through Confirmation; be at least 16 years of age; if married, be married in the Catholic Church; attend Mass faithfully … also, be a registered, actively participating parishioner for a minimum of six (6) months. Please stop by the Parish Office to fill out a form to be recommended for sponsorship. All requests will be seen by the Pastor and you will be notified when it is ready.

Welcome to St. Catherine's
The Parish Community of Saint Catherine of Siena welcomes you with great delight and pleasure. Everyone, as well as your families, are joyfully invited to be among us at the celebration of Sunday Liturgies and to be actively involved in the faith-filled activities of the Parish.

Come, see and experience the parish life our ministries and services offer to all, leading us to fulfill the Gospel Truth and Values.

Full of hope and gladness, may you realize and find that our website is helpful and informative.

Mission Statement
With eyes firmly fixed on the Gospel of Jesus Christ, the community of Saint Catherine of Siena Parish gathers to celebrate the Eucharist and worship God with joy and commitment. We welcome and reach out to those within our parish family and those beyond this community as we spread the Good News by offering hospitality, spirituality, ongoing faith formation, and support for those to whom we minister.

Prayer to St. Catherine of Siena
Father, in meditating on the sufferings of your Son and in serving Your Church, St. Catherine was filled with the fervor of Your love. By her prayers may we share in the mystery of Christ's death and rejoice in the revelation of His glory.
St. Catherine of Siena Pray for Us
Upcoming Events
Today:
Fri Sep 21
PARISH OFFICES CLOSED
Sun Sep 23
Parish Fall Festival beginning after the 10:00 am Mass
Rel Ed - Catechist Blessing, 11:30 am Mass
Mon Sep 24
Rel Ed Classes, 4:30-5:45 pm & 6-7:15 pm, Teacher Meet & Greet & Info Session
Tue Sep 25
Walking with Purpose, 10:00 - 11:30 am, Parish Hall
Wed Sep 26
Rel Ed Classes, 4:30-5:45 pm, Teacher Meet & Greet & Info Session
Thu Sep 27
Legion of Mary Auxiliary will meet at 10:00 am in the Main Church to pray the Rosary. All parishioners are welcome.
Fri Sep 28
PARISH OFFICES CLOSED